For the first time since 2016's Impericon Tour, metalcore five piece Blessthefall kick off their United Kingdom tour in York, alongside Harrogate's own Blood Youth. I sat down with vocalist Beau Bokan in Glasgow to discuss February's single "Dead Air", the next Blessthefall project and family life on the road.

M.E: You are currently 3 days into your headline tour alongside Blood Youth – How are you feeling? What is it like being back in the UK?
Beau: It's awesome! We have all of our favourite spots we like to eat out here, we go to Marks and Spencers as a band, hit Wagamama and Nandos, so. We're very comfortable, we love it out here, too.
M.E: I heard good things about Weatherspoons, too.
Beau: Yeah, Jared loves Weatherspoons, he's always like "Let's go, let's go!" but sometimes we just don't have time. Like, I'm gonna go try to run and get food before we play tonight because we have such a little gap, but it's been good, you know. Since we've been to a lot of these places a bunch of different times, it starts feeling very familiar. It's been a while since we've been in Glasgow.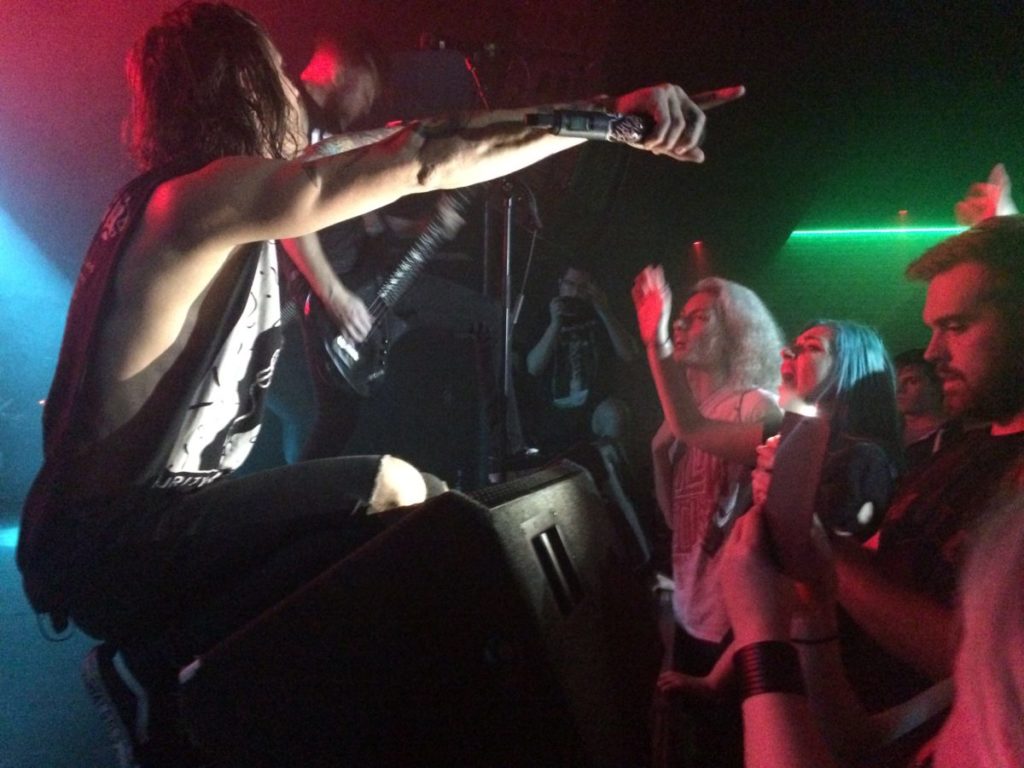 M.E: Let's start with a couple quickfire questions, just answer the first thing that pops into your head!
Favourite place in the UK/Europe to perform?
Beau: Oh, shit. Manchester.

Favourite song to play live?
Beau: Young Bloods.
If you could have written any song in the world, which would it be, relevant to what you do in the band?
Beau: Man In The Mirror – Michael Jackson.
Worst habit of another band member on tour? It could be you, if you're the weird one.
Beau: Ha! Oh man, it might be, uh… Elliott, not washing his stage shirt.
No!
Beau: It gets pretty smelly. We all get pretty smelly, but I just feel like, maybe I don't smell myself, I always smell Elliott first.
Strangest on-tour meal? My housemate's was a biscuit sandwich…
Beau: I get chocolate milk digestives and chocolate soy milk, that's my combo.
Out of curiosity… I've been a vegetarian for almost a year now and I keep seeing things online… Are you a vegetarian/vegan?
Beau: I've been veggie for, like, two months, so I'm pretty new to it; I've actually been using almond and soy milk for years and years, I'll have some ice cream sometimes…
You can get bomb vegan ice cream.
Beau: Out here?
Mhm! Apparently Glasgow is the most vegan-friendly place in the UK.
Beau: That's sick! Yeah, I love Marks and Spencers because they have, like, really good salads and they've very inexpensive. I had a beet and fetta wrap- It sounds weird, but it was so fucking good, it had avocado in it, ahhh! I had that last night and I was like "Damn."
Favourite social media platform?
Beau: I mean, probably just Instagram.
Favourite band to have toured with?
Beau: Off the top of my head, I have to say August Burns Red. We toured the world with that band, we basically lived with them forever.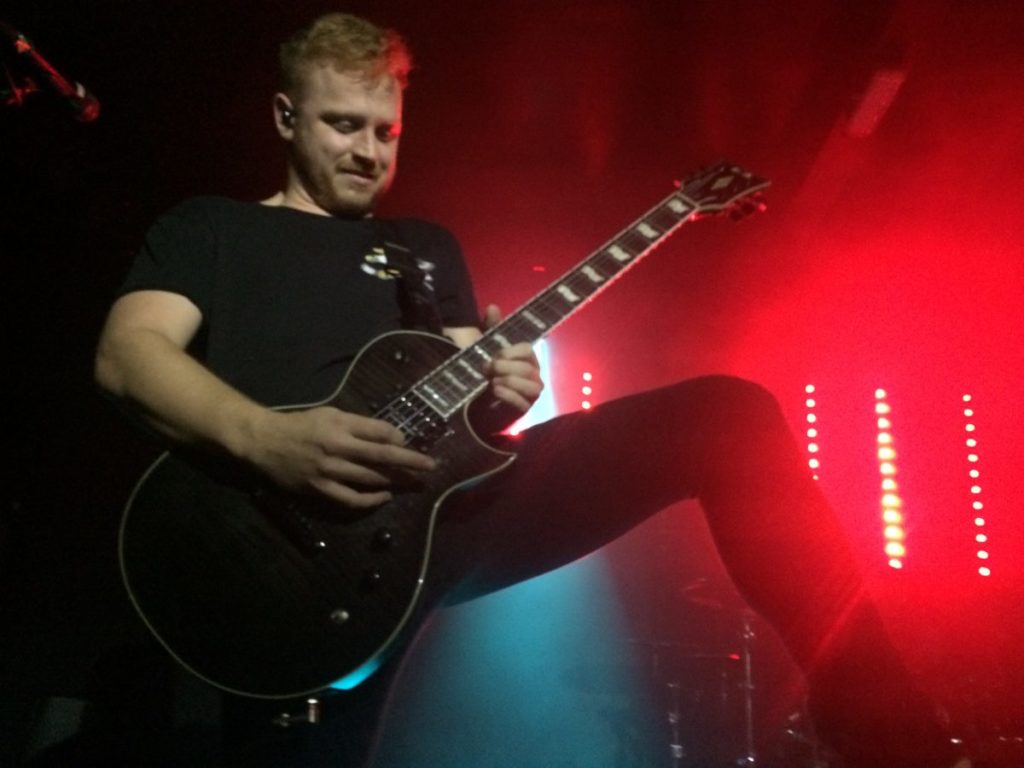 M.E: You guys just released a single and you've been teasing online about a new Blessthefall project, is there anything that you can tell us?
Beau: Yeah! I mean, we put out "Dead Air" not that long ago, but unfortunately that was our last record on Fearless [Records], so it was sort of like trying to squeeze air out of a rock to get a music video and to get "Dead Air" pushed a little bit, but that was the last single we released and we actually just finished our new album. It might be a while before it's out, but it's done and we just got very inspired to write, and we're ready for the new chapter.
https://twitter.com/blessthefall/status/897510476485017600
M.E: Is there a specific reason you chose "Dead Air" to be the single?
Beau: We just love this song, and I think it's a different song for us, you know? It's not your basic Blessthefall song, so it was something that was really cool, it was really emotional. It's got this big, soaring chorus, and you can kind of picture the music video in it, so we ran with that. People seem to really like it, and it's funny… We played in Russia the other night, and I was like "This is the craziest anyone has ever gone for this song," especially since it's really not a song you usually go crazy for.
Especially in Russia, where a lot of people don't speak the same language.
Beau: Yeah! They were singing it and jumping around, I think it was really cool.
M.E: After 6 albums, is that not creatively challenging? How do you get the push to keep doing more all the time?
Beau: You know what, it's funny that you ask that, because that was kind of the question that we asked ourselves writing the last record, or, technically the newest record. It gets to a point where you have developed a certain sound that people expect from you, and so, what we tried was to not, like… We used to say "Does this sound like a Blessthefall song? Blah blah blah," but it doesn't matter. It doesn't fuckin' matter because a good song is a good song, and so, with that in mind, we were able to write an album that was so different from anything we've ever done, and I think that with every song, we really really really focused on lyrics. Obviously, in every record, the lyrics mean a lot to me, but I feel like with this record more than ever, I was really trying to dive in and tell the stories, and tell them in a different way, paint a picture for the listener. Even in the music, it's a rollercoaster. Every song has it's very lows; I just tried to sing more on this album, too. I sang over a lot of heavy parts that you would think would be screaming. I think it'll attract a new audience and it just makes our songs different, and I think different is fucking awesome; I've been listening to that album every night in my bunk, so.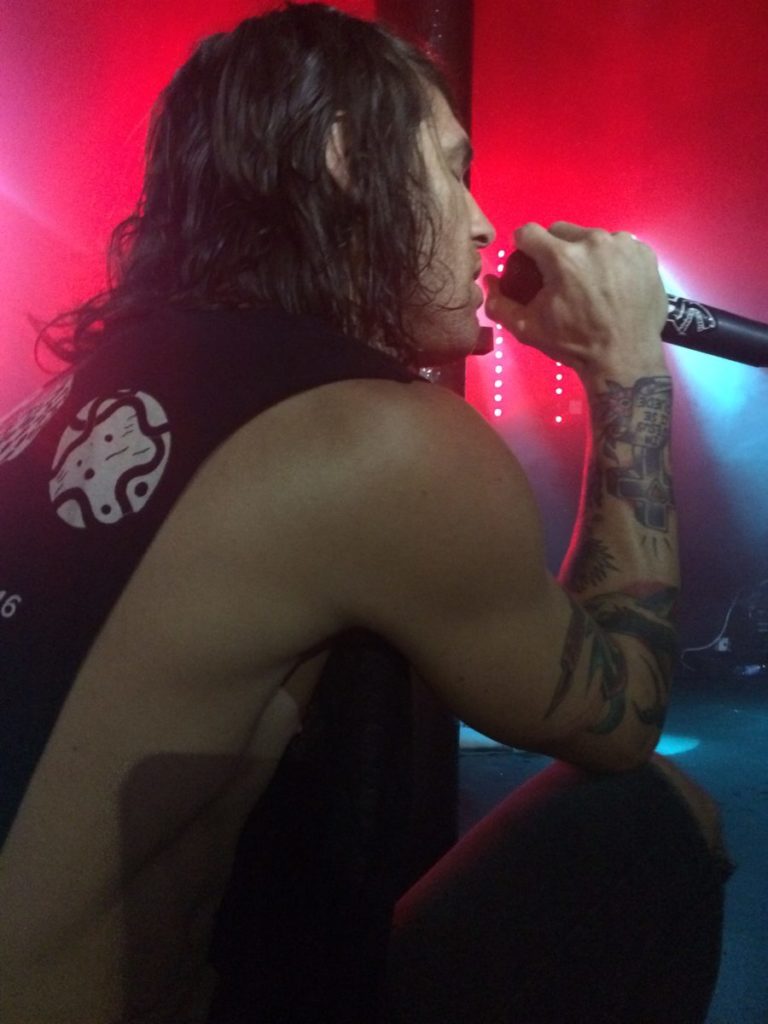 M.E: Your fuckin' wife, man!
Beau: Yeah!
What's happening with her album right now is insane- I had the chance to review it before release.
Beau: That's awesome! I learn a lot from her; She's a wordsmith, man. She doesn't use her words like anyone else does, the way she can tell a story and the way she writes her lyrics is just… I don't get it. I'm like, "Man, your brain works in different ways than mine does", so learn a lot from her, actually, and trying to tell a story in a certain way so it's not boring. So it's not just saying the words, but you're… It's poetry, in a way. It's not like it's pretentious poetry, it's not using all of these words that're too big, but it's just so clever.
M.E: On to family life, something I'm really interested in. Obviously, you have a baby, Matt just had a boy?
Beau: Yeah!
That's insane! How does that impact tour life and your work as an artist?
Beau: It's so awesome. I mean, Rocket goes on tour with Lights, and Matt stayed home from tour, we have a fill-in drummer.
I mean, that's understandable!
She had the kid the day we left.
That's insane!
He was born the day we left and we were like "Congrats man, sick!" as we got on the plane.
It's something really awesome to go back home to.
Yeah, it's sweet.
M.E: What are you listening to right now? In the making of the new record and in general.
Beau: I've mostly been listening to our stuff, really… Post Malone is a really cool band, or artist, I should say. He's very R&B, trappy, and he's just super cool because he's just very odd, he doesn't really fit in.
I've heard a lot about him!
Beau: He's sick, and he likes our genre or music, he's a fan of our band and stuff, so it makes me like him more. Please check him out, he's massive right now, he's the biggest thing. A lot of melody.
Lastly- You had GetInTheBus, you had Golden Hearts, Golden Hearts Media! What's next?!
Beau: I might start a coffee company, I don't know!
I can see that happening. You've posted about Nitro coffee before? What's that all about?
Beau: It's very, like, a concentrated cold brew, and then they, you can use a keg but I use a whipped cream can when I'm home and I decide to make my own. It nitro-infuses it, so it comes out really fucking cold, and like, frothy. It's like a beer, almost. But yeah- I do recognise that I'm always doing something new; I think I just do what I'm interested in at the time; the podcast, I was interested in, but there was no way I could do it full-time.
You're kind of a 24/7 person in music.
Beau: I know, I wanted it to be just…. fun. I think I might bring it back when I have time.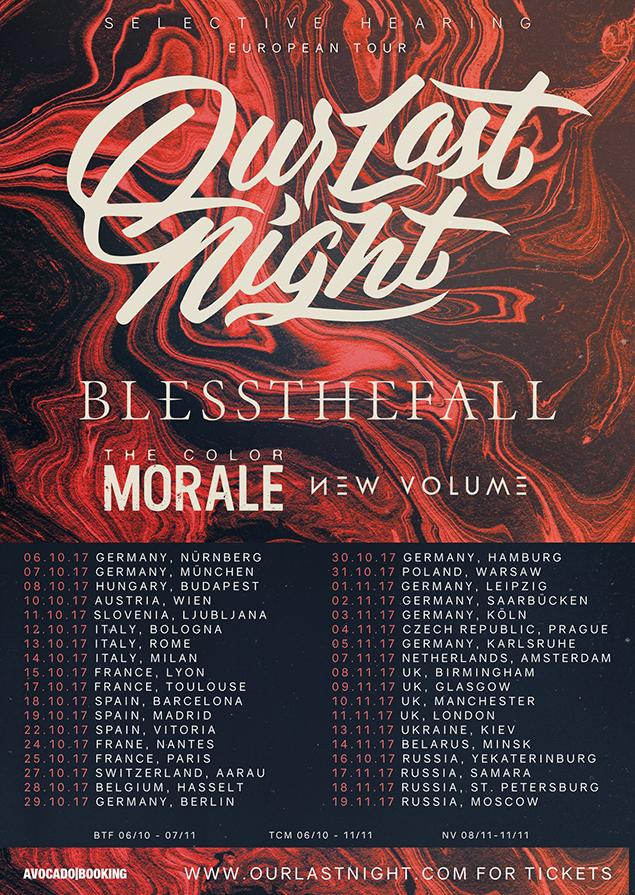 Don't worry if you missed them in the UK, because Blessthefall come back to Europe this October/November alongside Our Last Night and New Volume. Tickets are available here.
Blessthefall: Instagram | Twitter | Facebook
Beau: Instagram | Twitter