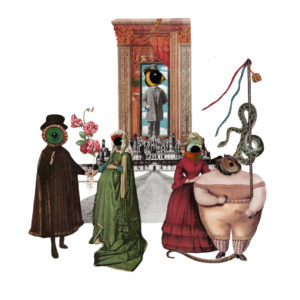 With their debut LP The Venus Transit, progressive rock/post-hardcore quintet Five of the Eyes have put forth an ambitious, hard-hitting starting point. With a wide array of technical skills possessed by each musician and an unrelenting energy behind each track, Five of the Eyes have put together one of the more memorable progressive rock releases in recent memory.
The opening track "Atmosphere" begins with some scattered guitar work that quickly transitions into a cleaner, more refined leading riff. The guitars here are frantic yet remain technical and precise, a trait that seems to draw inspiration from genre standouts The Fall of Troy. This guitar style creates a driving force behind the track that pairs well with Darrell Foster's powerful vocals. The combination of progressive rock structures with loud and abrasive hard rock characteristics feels similar to an act like Wolfmother, though Five of the Eyes don't wear their influences on their sleeve quite as prominently. The heavier presentation continues into "Wasteland" which features a snarling guitar riff that twists and turns its way through the track. This guitar style feels somewhat Mastodon-esque and shows off how aggressive the band is willing to get with their sound. The band returns to their prog/post-hardcore roots in "Space Is" which takes clear inspiration from At the Drive-In both in its abstract lyrics and energetic performances. The multi-faceted and constantly changing guitar rhythms provide a nice launch pad for the vocals to explode and jump out that the listener.
This jolting style is not present on every track, however. Tracks like "Mirrors" and "Passenger" provide some once again technically proficient performances from each member though they don't offer much else. This is a common gripe with certain prog rock acts. Sometimes the music can feel too technical to the point where it reaches a robotic structure. It's not that these tracks, or other prog rock acts for that matter, are easily defined as poor. Rather it stems from the notion that the over-abundance of technical details can sometimes make the music lack a preferred level of raw emotion.
Thankfully this drawback dissipates in the second half of the album which includes some of the band's best tracks. "Lust to Dust" features some echoed and watery vocals and shows some clear influence from Rush in its soaring instrumentation. This track takes its time and builds its momentum before leading into a fantastic guitar solo towards the very end. "Oblivion" and "Monsoon" both begin with bleak, moody aesthetics and create an enjoyably darker tone. The latter track especially does a great job of creating a somber mood that is elevated by the beautiful falsetto backing vocals. The final track "Delta" lays down a slightly sinister guitar riff that is backed by a frenetic rhythm section. The technical prowess paired with the band's explosive choruses perfectly showcases Five of the Eyes' gleeful combination of progressive rock and post-hardcore. The most important aspect of these tracks is that they earn their energetic climaxes. These tracks build at a steady rate, use their progressive nature to set the tone, and then eventually capitalize on a heavier conclusion. They're magnificently organized songs that put together a detailed arrangement of spacey guitars and pounding percussion before erupting into a blaring assault of layered sounds.
The Venus Transit is a daring debut for Five of the Eyes. Fans of both progressive rock and technical post-hardcore will find a lot to like here and the band offers enough hard rock tendencies to appeal to a wide variety of rock fans. If Five of the Eyes continue to experiment with this unique combination of styles, their projects will continue to impress.
The Venus Transit is out now. You can follow Five of the Eyes on Facebook, Twitter, Instagram, and on their personal website.
Compositions - 8.5
Breaking Ground - 8
Engagement - 9
Lyrical Voice - 8
Production - 8