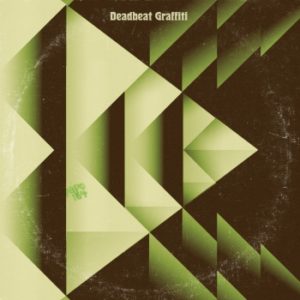 Canadian blues rock duo Black Pistol Fire (Kevin McKeown and Eric Owen) have put together their fourth LP Deadbeat Graffiti, a bold project that further establishes the band as one of the prominent rising rock acts. Personally, I feel that the blues rock genre has grown a bit stale over recent years. While blues rock/garage rock flourished in the early-mid 2000s thanks to bands like The White Stripes and The Black Keys, my main problem with many of the genre's contemporary products is that they lack much originality and tend to fall back on stylistic cliches. With that in mind, Deadbeat Graffiti is a refreshing project that shines thanks to its energetic performances.
The first track "Lost Cause" features a down and dirty opening guitar riff that sets the tone for the rest of the album. This track feels similar to the older work of The Black Keys thanks to the busy rhythm section and gruff guitars. Right from the beginning, one of the most notable characteristics of Black Pistol Fire's sound is just how layered it is despite there being only two members. McKeown's guitar work creates a powerful drive that leads the track and it smoothly fits in with Owen's rattling percussion. McKeown's guitar skills are perfectly showcased in the following track "Bully" which begins with cleaner guitar plucking that eventually evolves into a piercing solo that will ingrain itself in listeners' minds. The track "Last Ride" is easily comparable to the more recent work from Arctic Monkeys due to the echoed vocals and fuzzy guitars, though I actually prefer this sound over the aforementioned garage rock heavyweights. The vocals carry more personality and the guitar licks are distinctively catchier.
This is one of the most prominent positives to Black Pistol Fire. They possess far more personality than a good number of other acts within their genre. For example, the track "Fever Breaks" features an incredibly strong vocal performance from Mckeown. His heart-wrenching voice resembles a passionate cry that longs for something more. This vocal inflection paired with the brighter guitars feels similar to Alabama Shakes, one of the best acts within the genre today. While Deadbeat Graffiti brings a good amount of character that many garage rock/blues rock acts lack nowadays, there are plenty of other influences found throughout the project. "Don't Ask Why" and "Eastside Racket" are short and sweet tracks featuring gut punching rhythm sections and explosive guitar riffs that draw comparisons to older hard rocks acts. McKeown's vocals even carry a hint of Bon Scott influence which give these tracks a raw, unhinged presentation. "Watch it Burn" includes some folk influence with softer vocals that echo over the crystal clear acoustic guitar work. This track offers a bit of breathing room in the album by presenting a quieter moment in which listeners can step back from the rattling energy presented throughout the rest of the album. The LP's most interesting moment comes from "Coattail Rider." This track opens with a psychedelic guitar riff that eventually transforms into a funkier rhythm that feels closer to Gorillaz work on Demon Days, of all things. It's definitely an unexpected moment, but not to the point where it feels forced or out of place. Like "Watch it Burn", "Coattail Rider" offers a more diverse moment within the album and gives listeners a break from the more straightforward blues rock found in prior tracks.
My complaints with Deabeat Graffiti are few and far between. My main gripe with it falls onto the closing track "Yet Again." This track isn't inherently bad though it feels like an anticlimactic note to end on given the high-octane nature that the rest of the album puts forth. The guitars and rhythm section are respectable but they lack the earworm capabilities of previous songs. While listening to it, I couldn't help but feel like a handful of other tracks could have been better choices for closing numbers, such as the previously mentioned "Fever Breaks" or "Coattail Rider" which are some of the most memorable moments on the album and really could have left a stronger lasting impression on listeners. This is really more of a nitpick though, seeing as how the track itself is fine and doesn't necessarily diminish the overall quality of the album.
With Deabeat Graffiti, Black Pistol Fire have breathed new life into an oversaturated genre. McKeown and Owen's output is high-energy and sincere, putting forth catchy hooks and passionate vocals. With memorable songs and daring performances, Black Pistol Fire have put together one of the best rock releases of the year thus far.
Compositions - 9
Breaking Ground - 9
Engagement - 10
Lyrical Voice - 9
Production - 9.5