One of the more curious cases in music in the last few years was the rapid rise and fall of Californa alternative artists The Neighbourhood. In 2012 the band caught on with their single "Sweater Weather" that climbed all the way to number 1 on the alternative charts, and number 14 overall on the Billboard 200. Following their double platinum single, the band's debut album "I Love You" went gold and peaked at number 25 on the Billboard album charts. In the summer of 2013, they went on tour another fast-rising act known as Imagine Dragons.
Riding high off their debut's success they would go on to release a mixtape and multiple EPs and then their sophomore album "Wiped Out!" in 2015, which debuted at number 14 on the Billboard. By fall of 2015 were one of the hottest bands on the scene.
Then they virtually disappeared from the mainstream public eye. Save for a few festival performances, intimate US club dates, and college shows, from 2016 to now The Neighbourhood were rarely seen nor heard except by their most loyal fans.
At Midnight on Friday that all changed, when the band took to facebook and posted a URL link to a 5 track EP titled, "HARD" their first new music in nearly two years. The EP had not been announced prior to it's release, the only clue was 1 minute teaser video posted on Thursday that sent the band's facebook fans into a frenzy trying to figure out what happened.
The HARD EP is a 5 track, 18 minute album that is avaiable for purchase and streaming now at this link.
The Neighbourhood – "You Get Me So High" from the EP "HARD"
HARD Album Art: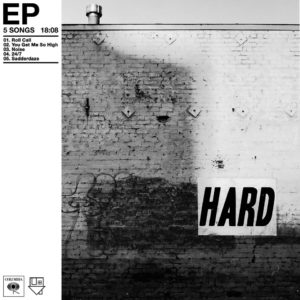 HARD Track Listing:
Roll Call
You Get Me So High
Noise
24/7
Sadderdaze