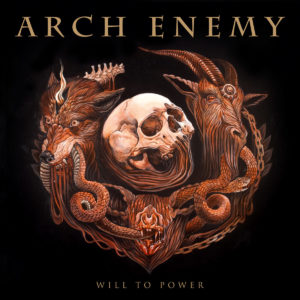 Swedish melodic death metal band Arch Enemy released their 10th studio album, Will to Power, on September 8. This is their second record with Alissa White-Gluz since she joined the band in 2014 after the departure of Angela Gossow and the first album with guitarist Jeff Loomis. Released through Century Media and produced by members Michael Amott (lead and rhythm guitars) and Daniel Erlandsson (drums, keyboards and programming) in Sweden where the recording took place, this 12-track masterpiece packs an explosive punch with a big surprise.
Will to Power starts off with the perfectly riff-filled instrumental track, "Set Flame to the Night," smoothly transitioning into the fast-paced song, "The Race," followed by "Blood in the Water," the perfect revenge-like track. The record continues with "The World Is Yours" and their current single "The Eagle Flies Alone." With White-Gluz's incredible growls, Amott's and Loomis's riffs, Sharlee D'Angelo's thumping bass and Erlandsson's beastly drumming skills, this album carries out Arch Enemy's heavy signature sound. Halfway through the album and the band surprises their fans and listeners with their first-ever track to feature clean vocals, "Reason to Believe," a very bold and daring move for Arch Enemy.
The record continues with more heavy hitters such as "Murder Scene" and "First Day in Hell," proceeding with another instrumental track, "Saturnine," leading up to the final three songs of the album. Both "Dreams of Retribution" and "My Shadow and I" smoothly transitioned the listeners into the sad realization that Will to Power is about to end, however not without a perfect close to the record, "A Fight I Must Win." This moving and empowering track, about fighting depression, is the second one to surpass the six-and-a-half-minute mark, with "Dreams of Retribution" being the first. Again, the perfect way to end an Arch Enemy record and it would not be surprising if the band added "A Fight I Must Win" to their live sets.
Overall, Will to Power was a great successor to their 2014 record, War Eternal. Truly one of their best works yet. Arch Enemy will be touring with Trivium this Fall in support of the album and will feature openers While She Sleeps and Fit for an Autopsy.
Will to Power is available on all digital platforms for purchase. Click here to view the tour dates for the upcoming tour.