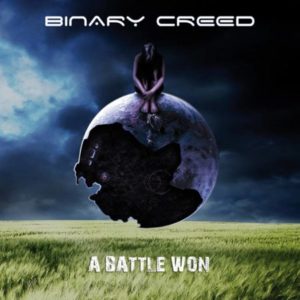 Swedish symphonic metal act Binary Creed have returned with A Battle Won, a grandiose full-length project that puts forth a truly sweeping style of hard rock. Although this is only the second LP in Binary Creed's discography, a follow up to 2014's Restitution, the band is already working on creating an ambitious sound that will impress longtime metal fans and solidify Binary Creed as up-and-comers within the genre.
The album begins with "Servants", an impressive blend of symphonic and power metal. The track starts with apocalyptic instrumentals and then transitions into an ascending sound. The guitars are fierce and the rhythm section is thick and booming. Andreas Stoltz's vocals come across as a unique blend of Geddy Lee and Daron Malakian. It's definitely a unique singing style that could take time for some listeners to become accustomed to, though it eases into a comfortable rhythm and quickly fits into the ambitious nature of the album. Tracks like "The Fallen King" and "Journey without End" even feature some gorgeous vocal harmonies that could definitely win over listeners due to the impressive range that Stoltz shows off. The following track "Lurking in the Shadows" carries a combination of symphonic metal with progressive rock, possessing respective elements from bands like Nightwish and Dream Theater. While the track has clear progressive influences, it uses these details to create a soaring soundscape, similar to the classic work of Iron Maiden. The clean production style allows the pristine instrumentals, often paired with some prominent string sections, to lay down a grand setting before Stoltz's vocals take over and lead the tracks through an exciting structure.
As with many symphonic metal acts, Binary Creed undoubtedly have a cheesy aesthetic, though the music remains fun. In fact, the band even seems to hone this quality on the track "Safer than Now" which is gleefully theatrical. The sharp keys and campy style feel similar to Ghost. It's a campy approach that carries an almost silly style though the music is still well-played and has a fun energy to it. A more toned down approach can be found on tracks like "Black Storm" and "These Hands" which feel similar to the works of Mercyful Fate thanks to the trampling instrumentals and Stoltz's higher pitched vocals. A Battle Won also features some more varied tracks that showcase other genres of metal. "A Better Man" begins with some crunchy guitars that feel thrash-inspired and the track then casually develops into a slower, more menacing pace similar to the work of Black Sabbath's years with Ronnie James Dio.
As stated before, the main problems surrounding A Battle Won deal with the level of corniness that's pretty much a staple of the genre. Fans of power metal and the more boisterous brands of symphonic metal are surely accustomed to this characteristic but for those that prefer a more stone-faced approach to metal then this factor could easily be a turnoff. It's a facet of metal that can be difficult to take seriously but at the same time, the music is certainly performed well and the cheesiness can bring a considerable level of enjoyment to the project. At it's core the album still holds roots in classic heavy metal which will click with all fans of the genre.
Binary Creed have put together a thoroughly enjoyable piece of symphonic metal. A Battle Won features all the trademarks of a solid metal project thanks to its memorable riffs, distinct vocals, and all around hearty performances from each member. For fans of the more theatrical sides of the genre, whether it be progressive, symphonic, or power metal, A Battle Won will be a fun listening experience.
A Battle Won is out now. You can order the album here. You can follow Binary Creed on Facebook.
Compositions - 8
Breaking Ground - 7
Engagement - 8.5
Lyrical Voice - 7.5
Production - 8