Visionary Texas-based rock quartet NOTHING MORE release their highly anticipated LP The Stories We Tell Ourselves ft. hit lead single "Go To War" next Friday September 15th and hit the road on a 50+ date tour across North America and Europe beginning September 12th.
Fans are in store for a live show unlike any other. The tour, which sees the band headlining venues from coast to coast with additional festival stops including Riot Fest in Chicago on album release day, will feature The Scorpion. A 400 lb., 14-foot-tall instrument made from scrap metal, automotive and motorcycle parts. The Scorpion was hand-crafted by Nothing More bassist Daniel Oliver, a self-taught welder and metal artist. It looks and sounds like nothing you've come across and must be seen to be believed: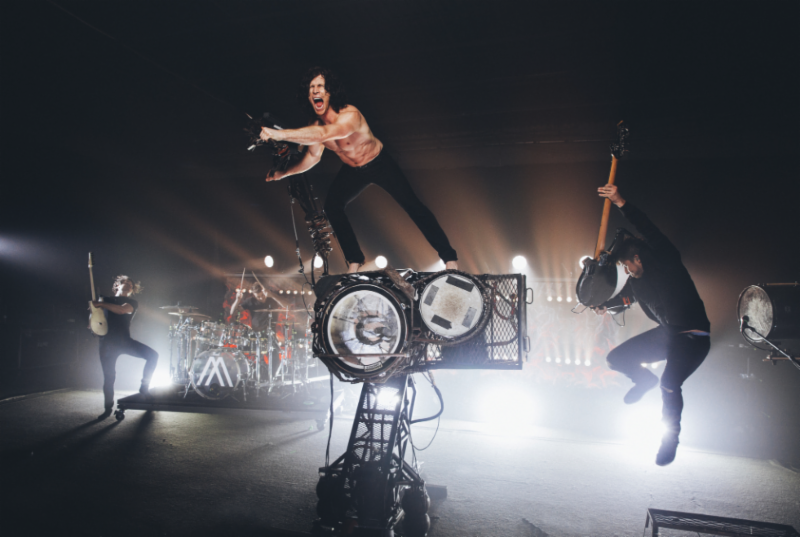 You can't fake something like Nothing More. Since the band's inception, they have cultivated a rapturous fanbase the old-fashioned way: By releasing groundbreaking music, tirelessly touring and cultivating a relationship with their fans that transcends trends.
In anticipation of next week and to celebrate their status as Music Choice Artist Of The Month for September 2017, today Nothing More share the lyric video for "Who We Are,"the fifth and final track revealed ahead the album's release. It follows previously revealed album tracks "Let 'em Burn," "Just Say When," "Don't Stop," and the hit single "Go To War."
Nominated for a 2017 Loudwire Music Award for Best Hard Rock Song Of The Year, "Go To War" has been streamed more than 4 Million times across platforms to date, and continues to climb the Top-10 at Rock Radio working its way steadily to Top-5. It is currently featured in War for the Planet of the Apes film trailer and on Spotify's Rock This, and The Official Game Of Thrones: Songs Of Fire & Ice playlists.
The follow up to the band's self-titled 2014 breakout LP, The Stories We Tell Ourselves sees frontman Jonny Hawkins once again bearing the soul of Nothing More as his bandmates Mark Vollelunga (guitar), Daniel Oliver (bass) and Ben Anderson (drums) craft a sonic palette comprised of elements ranging from progressive rock to pop.
The Stories We Tell Ourselves is available for pre-order now at all digital retailers along with exclusive merch packages, signed vinyl and CDs at PledgeMusic.
THE STORIES WE TELL OURSELVES TRACK LISTING:
01. (Ambition; Destruction)
02. Do You Really Want It
03. (Convict; Divide)
04. Let 'em Burn
05. Ripping Me Apart
06. Don't Stop
07. Funny Little Creatures
08. (React; Respond)
09. The Great Divorce
10. Still In Love
11. (Alone; Together)
12. Go To War
13. Just Say When
14. (Accept; Disconnect)
15. Who We Are
16. Tunnels
17. (End; Begin)
18. FadeInFadeOut
The Noise Presents Nothing More: The Stories We Tell Ourselves Tour 2017
Headline Dates:
*with My Ticket Home, Hell or Highwater
Tue Sept 12 – Memphis, TN – New Daisy Theater
Wed Sept 13 – Springfield, MO – Regency Ballroom
Sat Sept 16 – Grand Rapids, MI – Intersection
Sun Sept 17- Toronto, ON – The Phoenix Concert Theatre
Tue Sept 19 – Boston, MA – Paradise Rock Club
Thu Sept 21 – Baltimore, MD – Baltimore Sound Stage
Fri Sept 22 – Charlotte, NC – The Underground
Sat Sept 23 – Knoxville, TN – The International
Sun Sept 24 – Atlanta, GA – Masquerade
Tue Sept 26 – Tampa, FL – State Theater
Wed Sept 27 – Jacksonville, FL – Mavericks
Fri Sept 29 – Detroit, MI – St. Andrews Hall
Mon Oct 2 – Nashville, TN – Cannery Ballroom
Wed Oct 4 – Kansas City, MO – The Truman
Thu Oct 19 – Tucson, AZ – Rialto Theatre
Fri Oct 20 – Las Vegas, NV – Vinyl
Wed Oct 25 – Phoenix, AZ – Van Buren
Fri Oct 27 – Denver, CO – The Summit
Sat Oct 28 – Colorado Springs, CO – The Black Sheep
Sun Oct 29 – Grand Junction, CO – Mesa Theater
Tue Oct 31 – Portland, OR – Crystal Ballroom
Wed Nov 1 – Seattle, WA – The Crocodile
Fri Nov 3 – Calgary, AB – Marquee
Sat Nov 4 – Spokane, WA – Knitting Factory
Sun Nov 5 – Boise, ID – Knitting Factory
Mon Nov 6 – Salt Lake City, UT – The Complex
Wed Nov 8 – Oklahoma City, OK – Diamond Ballroom
Thu Nov 9 – Dallas, TX – House of Blues
Fri Nov 10 – San Antonio, TX – The Aztec Theatre
U.S. Festival Dates:
Sat Sept 9 – Mashantucket, CT – Revolution Rock Fest
Fri Sept 15 – Chicago, IL – Riot Fest
Sat Sept 30 – Madison, WI – Sonic Boom
Sun Oct 1 – Louisville, KY – Louder Than Life
Sat Oct 21 – Sacramento, CA – Aftershock
European Dates:
Wed Nov 22 – Pumphuset – Copenhagen, Denmark
Thurs Nov 23 – Debaser Strand – Stockholm, Sweden
Fri Nov 24 – John Dee- Oslo, Norway
Sun Nov 26 – Musik & Frieden – Berlin, Germany
Mon Nov 27 Hydrozagadka – Warsaw, Poland
Tues Nov 28 – Futurum – Prague, Czech Republic
Thurs Nov 30 – Chelsea – Vienna, Austria
Fri Dec 1 – Legend Club – Milano, Italy
Sat Dec 2 – Dynamo – Zurich, Switzerland
Mon Dec 4 – Melkweg – Amsterdam, Netherlands
Tues Dec 5 – Les Etoiles – Paris, France
Wed Dec 6 – Dingwalls – London, United Kingdom
Fri Dec 8 – O2 Institute3 – Birmingham, United Kingdom
Sat Dec 9 – The Cathouse – Glasgow, United Kingdom
Sun Dec 10 – Sound Control – Manchester, United Kingdom
Tues Dec 12 – Kavka – Antwerp, Belgium
Wed Dec 13 – Luxor – Cologne, Germany
Thurs Dec 14 – Headcrash – Hamburg, Germany
Purchase tickets & more HERE.