This was a highly anticipated show for myself, as I've had City and Colour on my wish list to see live for years. You can believe the second they went on sale, I was making my purchase. The day had arrived, and I was on my way back from a business trip. It was my luck that the one time I'm in a hurry, the flight gets delayed. Needless to say I missed the opener(s) and the beginning of C&C's set. Though there was a pinch of disappointment, I was still happy to make it to the show nonetheless.
Purple and orange lights set a fun mood to the steady beat of "Wasted Love." The crowd danced in the shadows as Dallas Green's voice echoed throughout the theater. The electrifying guitars rushed against Green's silky smooth vocals like water running in a creek. Transitioning into "Weightless," the audience stayed in a swaying motion to the rhythm. Everyone was living in the moment, an unusual sight to see as hardly any phones were in the air. A powerful and chilling performance "Hello, I'm In Delaware" made my entire night. I wouldn't even know how to describe the instruments used in this track, but hearing this rendition with the full band brought tears to my eyes.
Green was playful with the crowd as he said, "I love when grown ass men request slow love songs" leading into "The Girl." The performance of this track ended up being a crowd favorite with its beautiful melody and Green's falsetto range. The band was introduced to the audience before Green lead into "We Found Each Other In The Dark." He said, "This is a song about just trying to be kind to another as human beings. We're all fucked, some more degrees than others. We're all from different parts of the world, but we figure out how to deal with our differences. We don't have all the answers. Try to be nice and try not to write anything mean about anybody on the internet for four fucking minutes."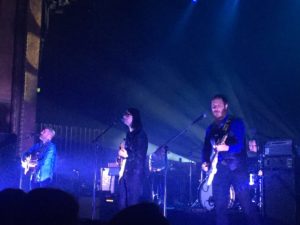 The night continued with "Fragile Bird," "As Much As I Ever Could," and crowd favorite "Little Hell." Green kept it lively with playful banter, little dance moves and responding to requests. The set was a perfect balance between slow ballads and soft rock tracks. It was a night to remember as the band closed with "Simple Man." The epic blow out proved to be full of soul as they released all of their energy to the crowd.
City and Colour are finishing their US tour with the remainder of the dates being along the west coast. Catch them on their USA Tour; tickets can be purchased here.