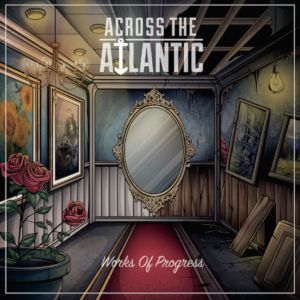 San Antonio quintet Across the Atlantic look to make in impressive splash in the pop-punk genre with their debut LP Works of Progress, an energetic blend of catchy choruses and surprisingly heavy instrumental arrangements. Over the years the pop-punk genre has drawn a level of criticism for one reason or another. While some listeners feel the genre can be too sophomoric for its own good (usually due to the admittedly crude work from artists like Blink-182 and Sum 41) or that it's sound is just too safe when compared to the genre's more aggressive stylistic roots, pop-punk has undeniably shifted into a much more varied scene throughout recent years. While this change has helped the genre gain more credibility it has also created a wider and somewhat more challenging field to sort through. Some artists like The Menzingers or Chumped remain closer to their punk upbringings, creating fast punk music that still carries catchy enough hooks to warrant the pop-punk label. Other bands like The Wonder Years and Real Friends definitely lean more towards the genre's pop elements, creating accessible tunes that still carry enough bite to make listeners aware of their punk influences. So where does Across the Atlantic fall within this spectrum? Works of Progress is a unique blend of everything mentioned thus far, as well as packing a few surprises along the way.
The album begins with a nice prelude featuring delicate pianos to lure in listeners before exploding into "Playing for Keeps", a roaring piece of energetic alternative rock. The instrumentals carry a metalcore aesthetic in its chunky riffs and fast percussion, though Jay Martinez's vocals fall closer in the familiar pop-punk realm. This fusion of styles is quite similar to A Day to Remember, specifically their album Common Courtesy. The heavier instrumentals blend well with the brighter vocals which emphasize nostalgic and opportunistic lyricism. The optimistic lyrics even draw slight comparisons to an older punk act like Hot Water Music, in that they invoke encouragement despite the songs' rougher exteriors.
This energy carries over into "Sundress Funeral." Martinez utilizes pleasant falsetto singing which transitions into an uplifting chorus that invites all those who listen to sing along. By this point in the album, it's clear that Across the Atlantic fall into the more pop subset of pop-punk. It's definitely a fairly accessible sound though it still carries enough edge to avoid being too sugary. This is perfectly showcased in the title track which closes out the album. "Works of Progress" begins with some gorgeous acoustic guitar work that eases into Martinez's warm vocals. It's a soothing conclusion to the album and draws comparisons to the early work of Jimmy Eat World. It's the most accessible moment on the album and it wouldn't feel out of place on an alternative rock radio station.
Works of Progress possesses a wide array of influences though the distinct genre blending doesn't always work in it's favor. The aforementioned blend of metalcore instrumentals and pop-punk vocals can occasionally feel mismatched. In tracks like "24 Hours" and "Blind Eyes" the two facets simply seem too opposite in nature and feel inappropriately combined. Not to mention, Martinez's screamed vocals grow tiresome towards the later portion of the record. This vocal style can feel like it's trying too hard and while that works for a heavier track like "Self(less)", a song that is comparable to a band like The Amity Affliction, they especially feel unnecessary for the upbeat pop-punk style in other tracks.
Across the Atlantic have put together an admirable debut that is sure to gain a large fanbase given its catchy brand of pop-punk that has already found success throughout the years. Provided that Across the Atlantic can keep their energetic approach while also crafting a sound that's a bit more distinct rather than wearing their influences on their sleeve, then their popularity will only rise from here.
Works of Progress is out now. Check out the band's website for purchase information. You can follow Across the Atlantic on Facebook and Twitter.
Compositions - 7.5
Breaking Ground - 7
Engagement - 8.5
Lyrical Voice - 8
Production - 8