Formed in 2012, Neck Deep is yet another example of a promising Welsh alternative band. There might have been ups and downs for Neck Deep throughout their five-year career, but with the release of their second album The Peace and The Panic, it's clear to see that their music has gone from strength to strength.
"Don't Wait" is a pop punk song which uses religious imagery to convey ideas of morality, a daring move in the current political and social climate. Atrocities committed in God's name are undermined when the question is asked, "What if God was the beggar in disguise?" The powers that be, those "playing God," apparently claim their version of events is the truth, yet this song pushes the listener to consider the motivations behind their need to peddle a specific narrative. I found quoting Shakespeare's Twelfth Night, "All the world's a stage," a particularly interesting move on their part, emphasizing this running theme of false narratives and manipulation and their impact upon society. Sam Carter, lead singer of Architects, makes a welcome guest appearance on this track, his screams literally vocalizing the apparent frustrations that come with this message. "Don't Wait" is a motivational message in itself, an attempt to raise awareness of injustice so that more people might take action and better the world themselves.
"Happy Judgement Day" is clearly inspired by current affairs, The references are far from subtle, with "building walls" and "dropping bombs" cited as the cause of their vision of the end of the world. It embraces any concerns of an oncoming apocalypse and wrapping them up in a frankly overwhelmingly catchy guitar riff. This track certainly deals with the "panic" portion of the album name.
It does follow certain pop punk conventions. "Parachute" reflects that genre's common stereotype of wanting to escape "small town politics" to get to "where the action is." But Neck Deep build upon these simple concepts; they want to carve out a better life, and not just run away from problems.
The Peace and The Panic further deals with other sensitive and important subjects, based upon personal experiences. "The Grand Delusion" deals with self-doubt and feelings of inadequacy. The melody might not be the most original, but the familiarity of downbeat lyrics and an upbeat tune is more comforting than boring.
"Heavy Lies" offers a twist on a break up song. Instead, it concerns two people who are falling out of love; it's about recognising that some things don't last forever. The song structure reflects the cycle of arguments and reconciliation which erodes their romance. Neither is ready to admit that their relationship is over, so continue to perpetuate the "heavy lie" that they're in love.
This album goes beyond simple reference to common experiences, however. "19 Seventy Somethin'," a song which I honestly did not expect to be as moving as it turned out to be, tells a very personal story. The narrative documents the lifetime of a couple, from first meeting, to children, to the loss of a loved one. It sounds incredibly personal, yet these experiences described will be so relatable to a wide audience that its poignancy can only grow.
The Peace and The Panic is an interesting title for this album, considering most of its content seems to deal more with the panic, from personal anxiety to social discord. "Where Do We Go When We Go" concerns the search for peace from life's difficulties. A twist on the traditional nursery rhyme, "Pain, pain, go away, come back another day," implies that, with perseverance, there is hope for a break from this internal struggle.
Hopefully, peace isn't too far in the future for all of us.
Catch Neck Deep on tour in the US, tickets available now here.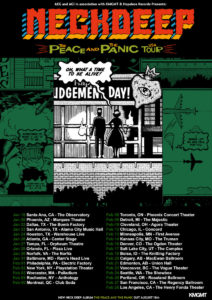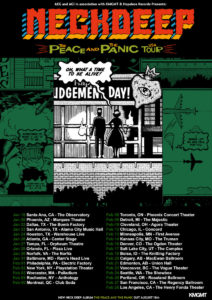 Find Neck Deep on social media:
Facebook|Twitter|Instagram|Official Site
Watch Neck Deep's video for "Happy Judgement Day":
Compositions - 8.5
Brekaing Ground - 7.5
Engagement - 9
Lyrical Voice - 8
Production - 8.5