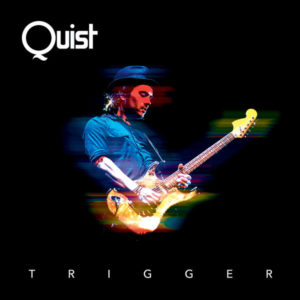 Danish instro-rock guitar virtuoso Jacob Quistgaard is spreading his signature sound around the world. Having picked up the six-string as a child, Quistgaard worked to develop a competent skillset by adolescence once moving to the UK. He then furthered his craft in the Royal Music Academy, under the tutelage of the multifaceted John Ashton Thomas. By this point, a recording debut under the Sony Music Denmark imprint was realized amid his studies. As an active session guitarist, Quistgaard would appear in major festivals Coachella and Glastonbury, as well as continue his major label output on Decca, Polydor, Warner, Universal, et al.
Under the name Quist, the acclaimed songwriter and composer began his YouTube presence in late 2010 with the channel QuistJam, earning over 50 million views and hundreds of thousands of subscribers to date.
His debut album, Trigger, is representative of those sessions. It is full of free-flowing fluency, but structured by the discipline of a seasoned pro – a contrast few could utilize to such a prodigious degree. Opening on "Science of Traffic," Quist builds upon a cumulative guitar-filled sequence before launching into a rhythm that succeeds at being both progressive and accessible. While its foundation proves complex, the surface metronome provides a sense of pace for listeners with broader musical palates. Halfway through the song, the reverb-tinged slide guitar alludes to distantly blaring sirens, all the while its accompanying clean strumming maintains the pace of the song. "She #Zen" explores Quist's fondness for stripped-down alternative rock, and proves sensible as the representative single for the album. The song's open-note chord sequence and nostalgic whistling are ideal summer elements, akin to warm sun complemented by a subtle hint of breeze. In the tracks to follow, "Rise of Silver" and "Chromey Yum," the vibe shifts yet again to represent two metal-related titles. The electronic-inspired initial track evokes a certain type of relaxation that the funk-driven next track complements. Whereas one comprises a collage of backing synth textures, the other translates that instrumentation into a guitar-based, foreground bounce. "Spinna" then increases the momentum with a return to a more progressive style, somehow making the guitars model after electronic sounds. I found the main chord setup was simple, to the effect of allowing the additional elements breathing room, or, in other words, provide support in elevating the dominant guitars. Capping the first group of tracks is "City Echoes Revisited," a calming interlude centering on sparse, but powerful leads that prepare the listener for what's to come.
The lapse is broken by "Pentaceratops Party Crasher," a livening dance track that maintains the album's sense of fun. There's solid interplay between the pinch harmonics and static riffs, all the while the percussion gradually assumes a grander presence. Soon as the reverse cymbal crash reaches its end, the track really settles into a secondary, more outwardly groovy stance. Throughout, the song's lead melody grazes with total command, enveloping the surrounding elements but without overshadowing them. Toward "Be-Longing," the resulting effect is akin to a party's somber aftermath – scenery in shambles, an outage of energy, and only the single remaining host left by their lonesome. Accordingly, bleak clean guitars dance around loosely before meeting the percussion on a snap, as if trying to recreate a steady path. The bold melding of guitar and percussion works well here, especially given the background's subtly variable reverb permutations. What follows is a detour into clear experimental territory, aptly titled "Glitch." Its main melody flirts with start-stop tactics, subtle enough to implement variety, yet accessible so as to not throw the listener off from the underlying groove. This time around, the song's leads shift between blunt fuzziness and mid-range fluidity, while exhibiting free rein during breakdowns, in the forms of liberating reverb effects. "Pull out Robot Here" marks the album's second and final interlude, which implements similar sparse buildup dynamics. Although less rockier than the previous one, it is equally effective in its lite jazz guitar foundation. Another contrast lies in its lack of foreshadowing, but it ends up benefitting the album's pace in a different sense. From its latter portion comes "Double Yang," a calming, swagger-filled electronic track that maintains a gradual shift of mood. Based on the song's title, I envisioned a deviating scenario alluding to disharmony – or, in other words, a lack of yin – present in space. The combination of wandering melodies with consistent slide guitar textures works well in that respect, given the amount air within the track. The penultimate track, "Wave Trigger," proves another solid transition. To an extent, this can represent a return to earth, given the noise encrusted guitar riffs that supplement the clean. All of this is registered in the context of a funkified atmosphere, which is stringed together by chunky solo work elevated by spacy textures. Finally, "Googleonaut" wraps the album on more of a straight ahead prog note, each phase insinuating a milestone for a musical journey to continually unfold.
Overall, Trigger is an exemplary display of finesse from the prodigy that is Quist. Each track is extremely well-disciplined, but crafted with a sense of theme, adventure, and, to some degree, humor. Given that this much talent is utilized on his full-length debut, I have no doubt that Quist's further efforts will only expand.
Quist Socials:
Official Website|YouTube|Instagram|Twitter
"She #Zen" music video: