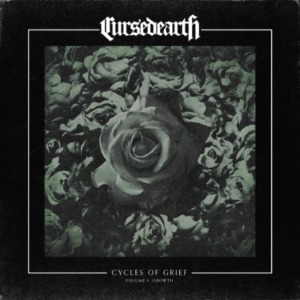 Australian metal quintet Cursed Earth have returned with their latest EP, Cycles of Grief Vol. 1: Growth, one of the most hard-hitting projects of the year thus far. Cursed Earth's last release, Enslaved by the Insignificant was a belligerent listen that combined elements of metal and hardcore in shining fashion. Cycles of Grief Vol. 1: Growth continues the band's pounding sound and solidifies Cursed Earth as prospects within their genre.
The EP Begins with "WarMarch", a rather apocalyptic-sounding track that draws comparisons to the likes of Cattle Decapitation due to its gutting presentation. "WarMarch" quickly transitions into "Broken", a song that encapsulates Cursed Earth's aggressive style. When listening to Cursed Earth, the first band that came to my mind was Converge. Similar to the Massachusetts hardcore heavyweights, Cursed Earth bring forth a truly harsh output. This style of metalcore doesn't fall under the technical and flashy subset of the genre. It's a much more raw, pummeling sound that presents an animalistic exterior. This combination of metal and hardcore is reminiscent to bands like Ringworm and Black Breath and presents a level of grit that isn't common among many other contemporary metalcore acts.
The track "Discarded" continues the hardcore influence with its frenetic percussion and completely unrestrained vocals from Jazmine Luders. The track then reaches a savage conclusion that almost embraces characteristics of sludge metal due to its slightly slower and thicker presentation. It's a nice blend of assaulting hardcore and occasionally atmospheric metal, comparable to that of Code Orange. The following track "Sanctioned Violence" continues this pulverizing sound though this time with a political edge. Cursed Earth definitely carry a political tinge to their music and that presence is strongest on this track. After the band blasts listeners with their already established heavy sound, Luders then screams politically charged lyrics at the top of her lungs, giving the song an empowering aesthetic. This forceful, if not admittedly blunt, lyrical presentation is reminiscent to the older hardcore punk act Chokehold, specifically their pivotal album Content with Dying. While the entire EP is a vicious listen, the final track, "Violated," is arguably the most raucous moment on the entire project. The instantaneous jump into the fast instrumentals and strident vocals are comparable to the grindcore genre with touches of powerviolence mixed in as well. This track really ends the EP with an exclamation mark and tops off the project in satisfying fashion.
My complaints with Cycles of Grief Vol. 1: Growth are few and far between. My biggest issue is the rather short runtime. While shorter projects are common within this genre, especially for this band whose last LP consisted of 11 songs spread out through 17 minutes, this project is short even by those standards, clocking in at under ten minutes. While this project packs a powerful punch in its short length, it might have benefited from one or two more tracks to flesh it out and give it some more weight.
Cycles of Grief Vol. 1: Growth is a must-listen for fans of hardcore. Cursed Earth have put together some of the most unrelenting metalcore I've heard all year. If Cursed Earth can put together consistent projects of this caliber, they could very well become a prominent name in the hardcore scene. Cycles of Grief Vol. 1: Growth is a finely crafted EP and if the band comes through with a Volume 2, it will be at the top of my list of anticipated listens.
Cycles of Grief Vol. 1: Growth is out now. You can follow Cursed Earth on Facebook and Twitter.
Compositions - 8.5
Breaking Ground - 8
Engagement - 9
Lyrical Voice - 8.5
Production - 8.5