Philadelphia rock band Soraia has released a new song "Quicksand," which debuted today as the "Coolest Song In The World" on Little Steven Van Zandt's worldwide terrestrial radio show Underground Garage, and on his SiriusXM channel 21.
In addition, Soraia announced that their new album Dead Reckoning will be released October 13, 2017 via Wicked Cool Records in partnership with The Orchard. Dead Reckoning is available for pre-order now.
Soraia – whose name means "bright guiding star" in Arabic – strive to set an example of how personal struggles can be overcome to inspire life-changing art. "Quicksand" channels this resonant message of empowerment and healing by way of rolling guitars and lead singer ZouZou Mansour's captivating howl. Steven Van Zandt, host of Little Steven's Underground Garage on SiriusXM, chose Soraia's song "Electrocutioner" as his #1 "Coolest Song of the Year 2016,"
The album title itself references the nautical process of calculating one's current position based off of previous locations and experiences, encapsulating Soraia's desire to process pain and struggle into growth and healing.
Dead Reckoning Cover Art: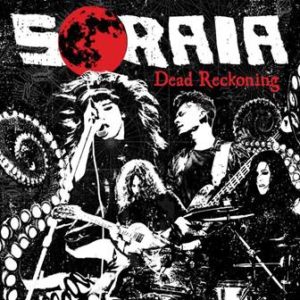 Dead Reckoning track listing:
Quicksand
Why
Cupid Killer
Beautiful Curse
Wow
Come Down, Angel
Monster
Je Ne Sais Quoi
Have Love Will Travel
Tahiti
Wandering Star
Black Mood
Soraia upcoming tour dates:
August 5               Levittown, PA @ Positively Records ("Quicksand" Single Release Party)
August 19            Philadelphia, PA @ The Barbary
August 22            Washington, DC @ Smith Public Trust
September 20    Allston, MA @ O'Brien's Pub
September 22    New York, NY @ Berlin NYC
September 23    Philadelphia, PA @ Milkboy (Record Release Show)
September 24    Pottstown, PA @ Fujiyama
September 28    Columbus, OH @ Spacebar
September 29    Wapakoneta, OH @ Route 33 Rhythm & Brews
September 30    Cincinnati, OH @ Urban Artifact
October 1            Dayton, OH @ Blind Bob's
October 3            Cincinnati, OH @ The Drinkery otr
October 5            Washington, DC @ The Pinch
October 6            College Park, MD @ TBA