Metro Station and The Ready Set have announced a co-headline Fall Tour to kick off on October 21st in Salt Lake City, UT and will wrap on November 22nd in San Diego, CA. The "Outsiders Tour" will also feature support bands The Downtown Fiction and Against The Current. Tickets are available here: www.outsiderstour.soundrink.com.
On the heels of their highly buzzed about reunion, Metro Station, recently announced their new EP, Gold, which will be released on October 14th.  The band premiered "She Likes Girls," the second single off the EP, exclusively with USA Today! Pre-order the new EP on iTunes, here: http://bit.ly/1uumMP. Pre-orderbundles are also available at: metrostation.merchnow.com. You can check out "She Likes Girls" here:

Gold, which features new songs like "She Likes Girls" and "Love & War," blends the group's signature electro-pop melodies and newfound lyrical depth. The band has recorded tons of new material but they aren't in a rush to put out a full-length album-yet. Instead, they're choosing to release Gold in October 2014 and then hit the road with The Ready Set this fall.
Metro Station announced their last month, stating that the combination of time and perspective managed to make the impossible occur by bringing two former musical collaborators and best friends back together; "I think we both just matured as people and as musicians," Cyrus explains. The band's 2007 self-titled album-which included tracks like "Seventeen Forever" and "Kelsey" sold more than 500,000 copies and its third single, "Shake It," was certified platinum, having sold more than 2.7 million copies.  The song also reached the top 10 on the Billboard Hot 100 chart in 2008 and the accompanying video has racked up 47 million YouTube views to date.
Metro Station will release Gold on October 14th.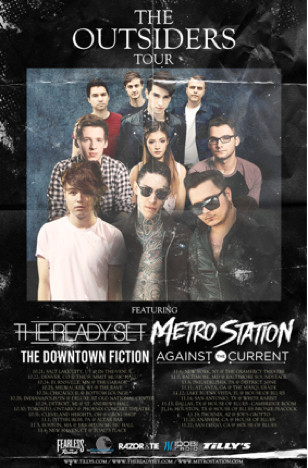 Metro Station Dates: