Ben Ottewell, acclaimed singer and guitarist of British band Gomez, is proud to release his new track "Red Dress". The song stems from his forthcoming second solo album Rattlebag, due on October 27th in North America via The End Records / ADA. The track is now available as an instant gratis when you pre-order the album on iTunes.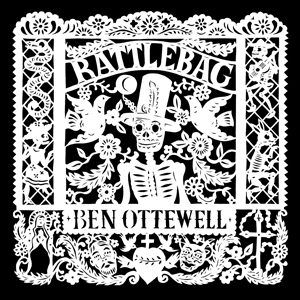 "It's a song about love, conflict and the armor we wear to get by, how sometimes surrender is better than continuing to fight." – Ben Ottewell on "Red Dress"
As a singer and lead guitarist in rock band Gomez, Ben Ottewell is well known for his unmistakable voice and talent for blistering and inspired guitar solos. Rolling Stone declared, "Gomez's not-so-secret weapon is BenOttewell." And as GQ Magazine once wrote and anyone listening can attest," his voice is not of this world."
Ottewell released his first solo album Shapes & Shadows (ATO) in 2011, featuring such beautiful acoustic tunes as "Blackbird," "Shapes and Shadows" and "Take This Beach," which appeared on FX's Sons of Anarchy. Since then, Ottewell has been pleasing audiences with a series of successful solo tours across the UK, US and Australia.
On his newest record, Rattlebag, Ottewell once again collaborated with childhood friend and his Shapes & Shadows writing partner Sam Genders, previously of Tunng.
Simultaneously stripped-down and lush, the album is a collection of beautifully poetic tales of salvation and redemption, of sanctuary and braving rocky seas in search of distant shores. Ottewell's infectious melodies and bluesy riffs will stick with you, and beg you to sing along.
Rattlebag is a record that transcends, appealing to Gomez fans for the recognizable sound they have come to love, and going beyond into a fresh new direction, evoking Americana and folk influences to create something that can be uniquely labeled as Ben Ottewell.
"There's a time and place for us / I will take you there," he sings ("Shoreline"). Ottewell proffers hope and promise accompanied by sublime acoustic and slide guitars, and that's something we can all use.
Physical album pre-orders are available now with exclusive bundle package options including the new album Rattlebag, exclusive Raglan/Baseball ¾ sleeve style shirt, sticker pack, and 4 button pin set, order here.