New England melodic-hardcore band Four Year Strong has announced plans for a headlining tour in January with support from Canadian hardcore band Comeback Kid. The tour will kick off on January 6th in South Burlington, VT and end on January 24th in Amityville, NY. VIP and pre-sale tickets will go on sale Tuesday, October 7th at 10AM ET. Tickets will be available to the general public on Friday, October 10th at 10AM ET. Visit FourYearStrongMusic.com for additional information.
Four Year Strong will also be on the road this fall for "The Go Down In History Tour" with Transit, Such Gold and Seaway in support of their new EP, Go Down In History, which is available now at iTunes and at http://fouryearstrong.merchnow.com/.
Go Down In History is Four Year Strong's first record since 2011's album, In Some Way Shape Or Form. It features five tracks, including the title track and standout songs "Tread Lightly" and "Living Proof of a Stubborn Youth." The record was recorded, mixed and mastered by Machine (Fall Out Boy, Every Time I Die) at The Machine Shop.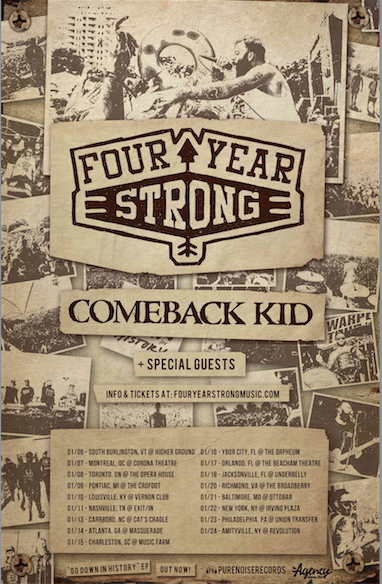 Four Year Strong Dates: