The fifth annual rockstar energy drink UPROAR festival rolled into the Susquehanna Bank Center in down town tropical Camden New Jersey closing out yet another successful blistering summer concert experience for many of the avid concert enthusiasts who, simply live out the rock and roll lifestyle center stage, it is always a great way to end a musical bliss of endless outdoor events with an all-day rock event such as the UPROAR festival which, gives many music fans the opportunity to be up close and personal in the general pit like atmosphere close to the festival stage.
The UPROAR festival featured many well-known mainstream rock acts like Seether and Headliner's Godsmack rounding out the main stage to a wide variety of first timers on the festival stage capping out a headliner set with Buck Cherry. The production of the UPROAR festival couldn't be any more accommodating with quick change overs from band to band making the first few hours seem like a mere two hours. Perhaps the UPROAR festival is geared more towards popularized bands yet giving the opportunity to showcase lesser known talent obviously makes UPROAR a great touring cycle year after year.
Perhaps one of the greatest achievements for UPROAR festival is not only showcasing some great mainstream talent between two stages, the festival also offered the battle of the bands in each market to take center stage and open the festival stage. Even with a light crowd during the opening slot of New Jersey's own local favorites Rewind The Crisis, for a rock trio undiscovered under the rock radar, they have done quite well for themselves with a freshly polished CD and a some YouTube attention, UPROAR festival certainly made this local band shine in shimmering lights for a quick twenty five minute set. Overlooking the UPROAR festival stage over top of the general admission lawn at the Susquehanna Bank Center, it is a breath taking skyline experience with the Philly over view in the background picture perfect while watching crowd surfing during Escape The Fates monstrous set right. Really doesn't get any better than that.
The festival stage was alive in full of energy with Great sets from 3 Years Hollow. Within Reason, Sons of Revelry and Escape the Fate who all sounded amazing blending soaring vocals and blistering guitar riff making the later part of the day a memorable second stage meltdown. Like most of us who enjoy harder edged music 3 Years Hollow and Escape The Fate certainly fueled the festival stage with some great sets. Full of poised energy, and great guitar licks and ballsy like vocals, made any rock fan feel right at home especially if hard rock or extreme alternative is up your alley then these three bands should be your musical choice.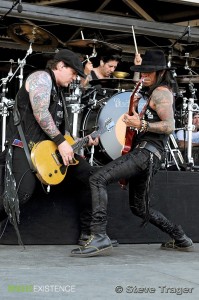 After withstanding the extreme heat and the sun beating down our backs, closing out the festival stage rock titans Buck Cherry who opened their 40 minute headliner set with " Lit Up " . While Buck Cherry has already earned themselves a main stage contender slot else where it was great to see this band rip through some memorable songs from a diverse catalog of stellar songs including "Crazy Bitch ".
Nothing stands out like a sore thumb in a crowd of true rockers concert with many fans sporting their favorite bands all geared in black attire. While it's always great to visually see some great concert shirts on a yearly basis, just looking at many all dressed in black in the tremendous heat pushing 90 some degrees, makes you mentally sweat even more dressed down in shorts and a tank top to keep as cool and hydrated as possible. With all the cold beers flowing in the general admission pit festival stage it was in full maximum party mode during the first few hours of UPROAR festival 2014.
The main stage at this year's UPROAR festival captivated out the entire day with four stellar bands who, have already become a house hold name in rock radio, have headlined multiple tours by themselves, and have earned platinum status all have joined the UPROAR touring cycle for one great epic performance.
First up opening the main stage was Pop Evil a great band that has been through the area a hand full of times as both a support and headliner, worked the fans into frenzy with their upbeat rock antics and stellar hits that have earned themselves notoriety through constant touring. Obviously they have some great rockers under their belts other than just " The Monster You Made " which broke this band from the rock radio silence and put them on the map.
We as music fans watch this next band hailing from the hidden valleys if Tennessee who call themselves Skillet, not your ordinary typical Christian Rock quartet by any means. Despite they have pulled out several efforts before anyone knew who they were in the late 2000's, Skillet defiantly added something to the UPROAR festival and that is a great show. Skillet opened their amazing show with " Whispers In The Dark " Much of Skillet's live show is nothing short of greatness full of energy and solid guitar solos and well-rounded big drum beats that deliver a punch live. Obviously Skillet being added to this year's lineup on the main stage certainly not only adds some diversity to the entire show, but gives any fan a worthwhile show. Despite that they had a short set Skillet still managed to jam every hit song that have earned them Platinum status yet " Monster " really molded this band on rock radio and the live version absolutely is amazing. Skillet never leaves a dry eye in the audience without performing "Hero ".
While the last few UPROAR festivals have had two co- headliners on the main stage, this year is no surprise with that same rock torched tradition. Next up fans eagerly awaited for Seether to belt out a catalog of hits as well as some new songs from Isolate and Medicate which happens to be a great new long awaited spell bounder for Seether. Their live show is and always has been that dark dramatic mood setting type of show that gives any fan of this band that mysterious show. It's been a bit since Seether performed on the east coast, the band has changed their visual looks with dazzling long locks of hair along with a bit of facial hair that including both Bassist Dale Stewart and Drummer John Humphrey. As a touring machine for the last few years, Seether has always been a trio band until now as they welcome to the fold on Lead Guitar Bryan Wickmann who was their guitar tech on the road for the last few years, a nice addition and change up to the bands live show. Seether opened their usual set with "Gasoline "running through a hand full of songs from the bands well-built catalog and introducing some new tracks including "Words as Weapons ".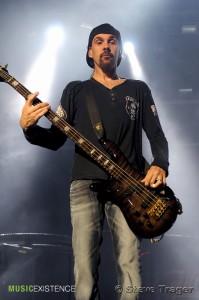 UPROAR festival 2014 set the tone this year with the mighty return of Boston's power house band Godsmack in the headliner hot seat. The stage was quickly set up with the intro beginning to roll out which was the rock anthem of AC'DC'S "For those about to Rock" with silhouettes of each member already on stage ready to rumble out ninety minutes of pure on fire heavy rock built for a speed train in loss of control. Godsmack has always been the type of band to never let their dedicated fans down with a never disappointing live show, packed with bomb pyrotechnics, dazzling light shows and blistering guitar solos and big power house drum beats of Shannon Larkin. The curtain dropped and already Godmack was ready to unveil some great new songs along with a heap if old favorites we have come to expect to always hear in the bands' live set. Godsmack's set quickly got underway with a brand new song from 1000hp "Generation Day "Godsmack featured five brand new songs from their current endeavor that resonates the power and drive that Sully and company have always delivered. Godsmack's live show on this years' UPROAR festival was nothing short of stellar, many old favorites captivating a blistering set with fantastic solos and power house guitar riffs from both Sully and Lead guitarist Tony Rombola. Not only were fans treated to a great show once again, Godsmack also brought back the dueling drummer face-off's center stage during their set For any diehard drummer in the audience that is priceless after all Sully Erna was once a drummer before riding the limelight in Godsmack in the early nineties'
UPROAR was nothing short of spectacular this year closing out a great summer of rock shows on the east coast in south jersey even without Red-light King who were slated to play this festival but were not present at Susquehanna Bank Center. Always a great time at a day long festival such as UPROAR, a touring festival cycle with great mainstream bands.
View the photos: